5 Reasons to Move to Van Alstyne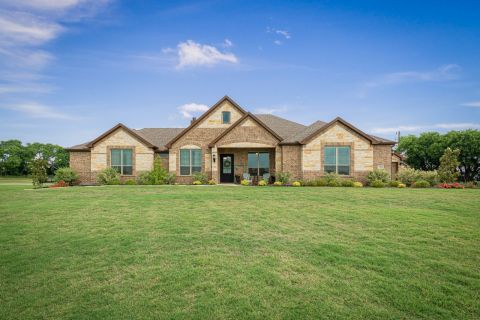 Van Alstyne is a small Texas town located in Grayson County. With a population of 3,682, it offers a classic, Texas small-town feel. However, its proximity to McKinney and the rest of the DFW metroplex gives it a suburban feel as well. There is no other city that the Pettit Realty Group would rather call home! Check out these five reasons that you should bring your family to the beautiful town of Van Alstyne!
5 Reasons to Move to Van Alstyne
Schools

- The Van Alstyne school district is one of the best school districts in Texas. At 95%, the Van Alstyne High School boasts one of the highest graduation rates in Texas. Van Alstyne High School is also ranked number one among the Sherman, Texas, metro area high schools! The Texas Tribune gave Van Alstyne ISD an "A" in student achievement and an "A" for their overall accountability rating!

Proximity

- US Highway 75 goes right through Van Alstyne. Not only does this make southbound travel to Dallas super easy, it also makes traveling north to the Lake Texoma area a breeze! Just 15 minutes south of Van Alstyne you can find all the great dining and entertainment options that McKinney has to offer, all without having to live in the bustle and traffic of a big city.

Small Town

- As we mentioned earlier, Van Alstyne is your classic Texas small town. If you are looking to get out of the big city and find a town with true community, look no further than Van Alstyne. Van Alstyne offers a tight-knit community where everyone knows everyone and truly cares about the people in the community. If you are from Texas, you understand that high school football is genuinely an event every Friday night. Well, Van Alstyne is no different! The entire community comes out to cheer on the Van Alstyne Panthers to victory!

Growth

- Like many towns along Highway 75, Van Alstyne is benefiting from rapid growth. Not only does this mean there are more options as far as housing, but also that more local restaurant and entertainment options are on their way! This is an exciting time to live in Van Alstyne, Texas!

Space

- One of the biggest complaints about living in Dallas, or even a suburb like Frisco or Allen, is the lack of space. Well, that is not something that you will have to worry about in Van Alstyne. Many houses here come with PLENTY of land. Whether you just want some space between you and your neighbor, or if you want a substantial amount of land, Van Alstyne has the options for you.
One of the most attractive benefits of living in Van Alstyne is options. If you want to live in a suburb-like neighborhood, on a rural ranch, or something in between, Van Alstyne is the place for you. The only hard decision left is choosing which lifestyle best fits you, your family, and your finances. Luckily, Pettit Realty Group is here to help! The Pettit Realty group team brings experience, integrity, and a community/family-driven approach to everything they do. Give us a call, to find your front porch today!